References:
Japanese economic miracle, From Wikipedia, the free encyclopedia
Liu, Haoyuan. '' 日德战后经济奇迹 (Japanese and Germany Postwar Economic Miracle)''. Finance World.
Nakamura, Takafusa (1981). "3: Rapid Growth". The Postwar Japanese Economy: Its Development and Structure (book). trans. Jacqueline Kaninski. Tokyo: University of Tokyo Press. p. 56
''Ranking of the World's Richest Countries by GDP (1967) – Classora Knowledge Base''. en.classora.com. Retrieved 8 December 2017.
Nanto, Dick Kazuyuki (1976). The United States' role in the postwar economic recovery of Japan. Massachusetts: Harvard University Press. p. 258.
Organisation for Economic Co-operation and Development (1972). The industrial policy of Japan. Paris. p. 45.
Macnaughtan, Helen (2005). Women, work and the Japanese economic miracle : the case of the cotton textile industry, 1945–1975. New York: Routledge Curzon. p. 11.
The Oriental Economist (1967). Japan Economic Year Book. p. 23.
Thomas, Vladimir (5 March 2017). the world transformed 1945 to the present (second ed.). Michael H.hunt. p. 211.
Johnson, Chalmers (1982). MITI and the Japanese Miracle: The Growth of Industrial Policy, 1925-1975. Stanford University Press. p. 211.
Business Intercommunications Inc. (1973). White Papers on Japanese Economy, 1973. p. 16.
Business Intercommunications Inc (1978). White Paper on Japanese Economy, 1978. p. 96.
Ichiro, Nakayama (1964). Industrialization of Japan. Tokyo. p. 7.
Jump up to: a b Yamamura (1987). The Political Economy of Japan. Stanford: Stanford University Press. p. 102.
Hane, Mikiso. Eastern Phoenix: Japan Since 1945. Boulder: Westview Press, 1996.
The New Economist N3-4, (2021), Vol 16, Issue 3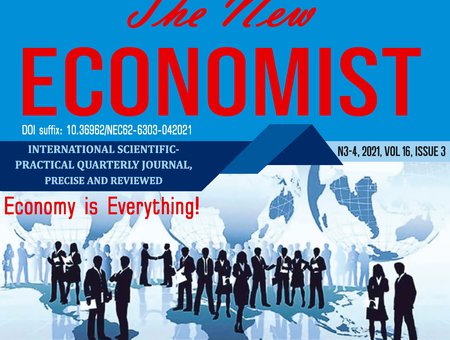 Published Date:
11/01/2022
Copyright (c) 2022 Vasil Khizanishvili

This work is licensed under a Creative Commons Attribution-NonCommercial-NoDerivatives 4.0 International License.