References:
Koghuashvili P., Baratashvili E., Maisuradze I., Food clusters as a tool for increasing the efficiency of agribusiness // Modern science: innovations and perspectives. Proceedings of the 6th International Scientific and Practical Conference. SSPG Edition. Stockholm, Sweden. 2022. p. 198-211 ISBN 978-91-87224-02-7 URL: https://sci-conf.com.ua/vi-mezhdunarodnaya-nauchno-prakticheskaya-konferentsiyamodern-science-innovations-and-prospects-6-8-marta -2022- goda-stokgolm-svetsiyaarhiv/
Koghuashvili P., Kunchulia T; For the Agricultural Strategy of Georgia; Journal "Moambe" N 28. 2010
P. Koghuashvili; For the Strategy of an Agrarian Policy of Georgia. Scientific-Practical Conference; Kutaisi, 2011.
N. Chitanava; Peculiarities of the transformation of Georgian economy and the logic of formation of new strategies of development perspectives. Journal "Social Economy" N4 (22); 2012 year.
N. Chitanava; New strategy of agricultural development in Georgia; Journal "Business and Legislation" N1; 2013 year.
Kharaishvili E., Agricultural development priorities in Georgia and Israel: innovative approaches and models, student scientific-practical journal "Student Research and Projects", N 1-2, 2018.
Kharaishvili, E., Gechbaya, B., & Mushkudiani, Z. (2019). Agro-food production trends and innovative export marketing strategy in Georgia. economic. Ecology. Society, 3 (3), 1-10. https://ees-journal.com/index.php/journal/article/view/107
Materials of the National Statistical Service of Georgia: www.geostat.ge
Maisuradze I., State promotion of small businesses operating in the agrarian sector of the region; J. "Economics", Volume 105, N11-12, 2022. p.51-67. DOI:10.36962/ECS105/11-12/2022-51.
The New Economist N 1 (2023), Vol 18, Issue 1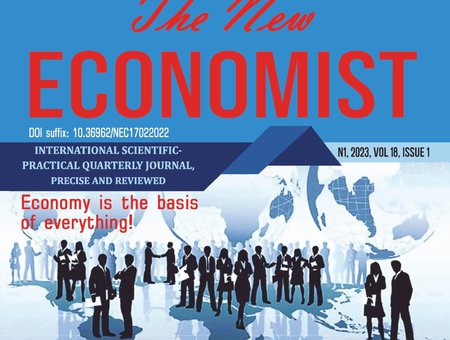 Published Date:
31/03/2023
Copyright (c) 2023 Paata Koguashvili, Ina Maisuradze

This work is licensed under a Creative Commons Attribution-NonCommercial-NoDerivatives 4.0 International License.