References:
1.Dunning J., Trade, location of Economic Activity and the MNE: Search for an Electic Approach// "The International Location of Economic Activities", London 1977, pp. 395-418.
2.Dunning J. Explaining changing Patterns of International Production: In Defense of the Eclectic Theory//Oxford Bulletin of Economics and Statistics, Nov.1979, vol.41.
3.Dunning J. The Product Cycle Hypothesis in a new international Environment//Oxford Bulletin of Economics and Statistics, November 1979, vol.41.
4.Hymer S., The International Operations of National Firms: A Study of Direct Foreign Investment// Cambridge: MIT Press, PhD dissertation, 1960, Massachusetts Institute of Technology.
5.Kasahara S. The Asian Developmental State and the Flying Geese Paradigm. November 2013 36 p. URL: http://unctad.org/en/PublicationsLibrary/osgdp20133_en.pdf (accessed 1.05.2016)
6.Kindleberger C. , Restrictions on Direct Investment in Host Countries//Discussion Paper for the University of Chicago Workshop on International Business, March 1969.
7.Kojima K., A Macroeconomic Approach to Foreign Direct Investment// Hitotsubashi Journal of Economics, June 1973, vol.14.
8.Kojima K., International Trade and Foreign Investment: Substitutes of Complements// Hitotsubashi Journal of Economics, June 1975 vol.16.
9.Porter M., The Competitive Advantage of Nations// London 1990
10.Vernon R., International Investment and International Trade in the Product Cycle//Quarterly Journal of Economics, May 1966, Vol.80;
11.Леонтьев В. Темпы долговременного экономического роста и перевод капитала из развитых в развивающиеся страны (в кн.: "Леонтьев В. Экономические эссе. Теории, исследования, факты и политика". М.: Политиздат. 1990),
The New Economist N3-4, (2021), Vol 16, Issue 3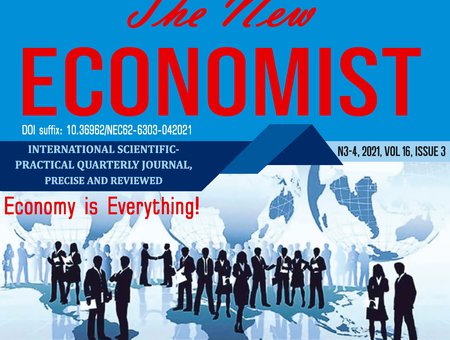 Published Date:
11/01/2022
Copyright (c) 2022 Sofiko Dzhvarsheishvili / სოფიკო ჯვარშეიშვილი

This work is licensed under a Creative Commons Attribution-NonCommercial-NoDerivatives 4.0 International License.